Mark Mylan D.C
Specialty: Chiropracatic, TMJ adjustment, Sports Chiropractic
Professional Experience
Dr. Mark Mylan is a 1998 graduate of Palmer College of Chiropractic. Originally from Iowa in the United States, he graduated from the University of Iowa with a Bachelor's degree in Exercise Science in 1994 before attending Palmer College. He has owned and operated Chiropractic clinics in Iowa, Las Vegas, Texas, Mexico, Peru, and now in Singapore. He believes that life is about unending learning, and so he pursue to learn new techniques consistently and effectively for his patients.
His interests include strength training, golf, bodysurfing, reading and travel. He and his wife Hylenna, who is from Venezuela, and son Domenico (born in 2021) enjoy sightseeing, trying new restaurants, and family time at home.
Dr. Mark Mylan did number of humanitarian contributions like going to Haiti to provide care to people, as he desire to help as many as possible.
Dr. Mylan believes good health begins with the spine and nervous system and has consistently improved and learned new ways to help his patients achieve their health goals.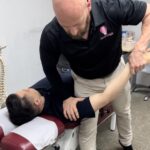 Professional Education
1998
Doctorate of Chiropractic, Palmer College of Chiropractic, Davenport, Iowa
1998-2000
Doctor of Chiropractic, Licensed in the State of Nebraska
1999
Coralville, Iowa Chamber of Commerce
2005
Nevada Chiropractic Association
2005
World Chiropractic Alliance
2005
American Chiropractic Society
2005
Gonstead Clinical Studies Society
2013
Texas Chiropractic Association
2016
Academy of Chiropractic
Get contact with Chiropractor