Have You
Tried It All

And Still Have Back and Joint Pain?
See how you can get it resolved holistically and non-invasively with one of Singapore's leading trusted Chiropractic practice group.
FREE Ergonomic Pillow
HAS ANY OF THESE CONDITIONS BEEN BOTHERING YOU?







These Conditions Have Probably Kept You Tossing And Turning In Pain All Night, Greatly Affecting The Quality Of Your Waking Life.
WHAT IS CHIROPRACTIC AND HOW WILL IT HELP YOU?
WHY TRUE CHIROPRACTIC GROUP?
What Our Patient Says
I used to get really intense lower back pains with difficulty to even put my pants on. I decided to chiropractic a try and I've have found that it has really helped. To make things even better, Dr Annika whom I've received treatment from is awesome!
Chong Hua Qian
"
After looking at how chiropractic has helped my dad rest better and feel better, I joined up and with the wonderful treatment from Dr Annika, I have had better quality sleep and feel much more alert and rested and relieved from my sinus issues.
Teck Hui
"
I was having headaches 4 – 5 days a week. I was constantly on pain killer. Chiro adjustments have relieved the headaches by 80% & quality of life is greatly improved.
Tan Hui Cheng
"
I came to True Chiro and Fraser saw my problem immediately. I was able to go back to playing football and golf after 2 sessions. Very good.
Tan Chor Thien
"
Ang Mo Kio (Town Centre)
Address: Blk 727 #01-4268 Ang Mo Kio Ave 6
Singapore 560727
Tel: 6816 8881
Whatsapp No: 8511 7708
Bukit Timah (Sixth Avenue)
Address: 1 Fifth Avenue, #04-07
Guthrie House, Singapore 268802
Tel: 6816 8881
Whatsapp No: 8228 6642
Marine Parade (Town Centre)
Address: 1 Marine Parade Central #03-04 Parkway Centre Singapore 449408
Tel: 6816 8881
Whatsapp No: 9787 2169
Raffles Place(PLUS)
Address: 20 Cecil St #05-09 PLUS Singapore 049705
Tel: 6816 8881
Whatsapp No: 8339 9382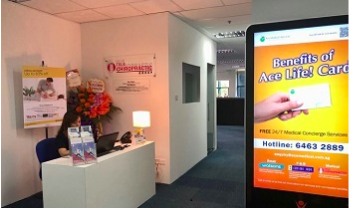 Ubi (Techpark)
Address: 10 Ubi Crescent #04-49 (Lobby C) Ubi Techpark Singapore 408564
Tel: 6816 8881
Whatsapp No: 9178 3507
SINGAPORE SCOLIOSIS BRACING CENTRE
Address: 1 Fifth Avenue, #04-07 Guthrie House Singapore, Singapore 268802
Tel: 6816 8881
Whatsapp No: 8228 6642
TRUE OSTEOPATHY CLINIC
Address: 1 Fifth Avenue, #04-07 Guthrie House Singapore, Singapore 268802 (Bukit Timah)
Tel: 6816 8881
Whatsapp No: 8228 6642