CHIROPRACTIC CARE FOR SLIPPED DISC
The discs are protective shock-absorbing pads between the bones of the spine (vertebrae). Although they do not actually "slip," a disc may move, split, or rupture. This can cause the disc cartilage and nearby tissue to fail (herniate), allowing the inner gel portion of the disc to escape into the surrounding tissue. This leaking jelly-like substance or slipped disc can place pressure on the spinal cord or on an adjacent nerve, causing symptoms of pain, numbness, or weakness either around the damaged disc or anywhere along the area supplied by that nerve. When this occurs, you must see a healthcare professional in Singapore right away so that you can get appropriate therapy to manage symptoms.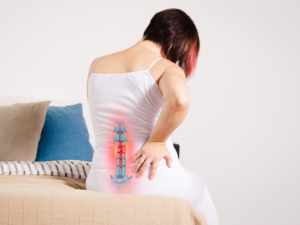 WHAT CAUSES A SLIPPED DISC?
Slipped discs are usually caused by gradual, ageing-related wear and tear or also known as disc degeneration. As you age, your discs become less flexible, putting you at risk of tearing or rupturing them with even a minor twist or strain.
There are certain motions that can result in a slipped disc, like twisting and turning to lifting an object. When you lift heavy objects, it can put a significant strain on your lower back, which can result in a slipped disc. As such, physically demanding jobs may put you at increased risk of developing a herniated disc.
Being overweight can also put you at risk of herniated discs because the discs may be unable to support the additional weight. If you have weak muscles and a sedentary lifestyle, this can also contribute to developing a herniated disc.
If you are suffering from a slipped disc, possible ways to assist in managing your pain include surgery, medication. Chiropractic care can also help alleviate your pain (depending on the severity of your condition).
WHAT ARE THE SYMPTOMS OF A SLIPPED DISC?
In most cases, herniated discs happen in your lower back, but they can also happen in your neck. Your signs and symptoms will depend on which part of your spine the disc is in and whether the disc is pressing on a nerve. If you're experiencing any of these symptoms, you should see a healthcare professional in Singapore so you can get slipped disc care that suits your condition:
For herniated discs in your lower back, you may feel pain in your buttocks, thigh, calf, and some parts of your foot.
If the slipped disc is in your neck, you will feel the most pain in your shoulder and arm. The pain might even affect your arm or leg when you sneeze or move into certain positions.
You may feel a radiating numbness or tingling in the body part served by the affected nerves.
Muscles served by the affected nerves tend to go weak, causing you to stumble or affect your ability to grasp or lift objects.
HOW CAN CHIROPRACTIC CARE FOR SLIPPED DISCS HELP?
Chiropractic care can help by addressing underlying musculoskeletal imbalances and reducing pressure on the affected nerve associated with your slipped disc. When you visit a chiropractic clinic in Singapore, a chiropractor can perform spinal adjustments, soft tissue therapies, and exercises to help improve the alignment and mobility of your spine, reduce inflammation, and manage the pain.
The chiropractor will have to do an initial assessment of your condition to see if chiropractic care can be suitable for your slipped disc. You might undergo several tests, like a physical exam, orthopaedic test, and neurological test before they perform any chiropractic therapy. Should they see that chiropractic care can be an appropriate solution to your slipped disc, then they will develop a personalised plan that will improve your well-being.
BENEFITS OF CHIROPRACTIC CARE FOR SLIPPED DISCS
There are several benefits to getting help from a chiropractor in Singapore for your slipped disc, including:
Pain relief – Chiropractic care can help in reducing the intensity and frequency of your back pain that is caused by a slipped disc
Improved mobility – Chiropractic care can support the proper alignment and mobility of your spine, enabling you to increase your range of motion and flexibility.
Reduced inflammation – Chiropractic adjustments and soft tissue therapies can help in reducing inflammation in the affected area.
Non-invasive –  If you want a non-invasive and drug-free approach to addressing your slipped disc, chiropractic care may be a suitable option for you.
Improved well-being – Aside from managing your symptoms, chiropractic care also has additional health benefits, including reducing stress, promoting relaxation, and improving sleep quality.
CHIROPRACTIC ADJUSTMENT FOR SLIPPED DISC
During a chiropractic adjustment for slipped disc, a chiropractor will use their hands or a specialised tool to apply controlled force to your affected joint. This technique is intended to improve the alignment of the joint, which helps in reducing pain and improving mobility. Proper alignment of the spine can help in reducing pressure on the affected vertebrae, alleviating inflammation. In turn, it can help address the pain and discomfort, as well as improve your range of motion.
THERAPY OPTIONS FORSLIPPED DISC IN SINGAPORE
Aside from chiropractic care, there are several other therapy options that can also help with your slipped disc.
For lumbar and cervical herniated discs, conservative (non-surgical) therapy can usually be applied for around four to six weeks to help reduce pain and discomfort. A process of trial and error is often necessary to find the right combination of therapies for your slipped disc. You may try one therapy option at a time or may find it helpful to use a combination of options at once. But for severe cases, conservative therapy may not be effective in alleviating herniated disc symptoms. As such, you may be required to undergo surgery. Here is what you should know about the different slipped disc care available:
Medications – If pain is mild to moderate, you may be prescribed over-the-counter pain medication to alleviate discomfort in the affected area. In some cases, you may be prescribed muscle relaxers if you're experiencing muscle spasms or neuropathic drugs for stronger pain relief.
Physical Therapy – A physical therapist can help with disc herniation therapy, showing you positions and exercises that can minimise pain and discomfort, as well as improve your mobility.
Surgery – For severe cases wherein conservative therapy is no longer effective, you may be required to undergo surgery. Your chiropractor may recommend surgery when you're experiencing poorly controlled pain, numbness or weakness, incontinence, or difficulty walking or standing. In this case, surgeons will remove the damaged portion of the disc to relieve pressure on the nerves.
DISC HERNIATION THERAPY IN SINGAPORE
Disc herniation therapy involves different therapeutic approaches that can relieve pressure on the affected nerves and reduce inflammation around the herniated disc. These therapeutic approaches include physical therapy, chiropractic care, and even surgery.
Other than pain relief, minimising inflammation, and improving mobility, undergoing disc herniation therapy in Singapore ensures better long-term outcomes by reducing your risk of future herniations and other spine-related problems. This enables you to maintain your mobility and an optimal quality of life in the long run.
WHY CHOOSE US?
TRUE Chiropractic strives to help you achieve optimal health naturally through patient education and professional chiropractic care. Our goal is to ensure your long-term well-being and help you make an informed decision on suitable care options for your slipped disc. We work with you in managing your symptoms through a drug-free, non-invasive, and natural approach so that you can improve your quality of life and get back to performing your daily activities optimally. Our chiropractors in Singapore are also capable of providing neck pain chiropractic adjustments, posture correction, and other neuromuscular chiropractic care.
SCHEDULE AN APPOINTMENT WITH TRUE CHIROPRACTIC
If you're searching for professional chiropractic care for slipped disc in Singapore, our chiropractors are ready to accommodate you. Book an appointment with us today to get started.
Get an Appointment