Slipped Disc / Disc Herniation
The disks are protective shock-absorbing pads between the bones of the spine (vertebrae). Although they do not actually "slip," a disk may move, split, or rupture. This can cause the disk cartilage and nearby tissue to fail (herniate), allowing the inner gel portion of the disk to escape into the surrounding tissue. This leaking jelly-like substance can place pressure on the spinal cord or on an adjacent nerve to cause symptoms of pain, numbness, or weakness either around the damaged disk or anywhere along the area supplied by that nerve.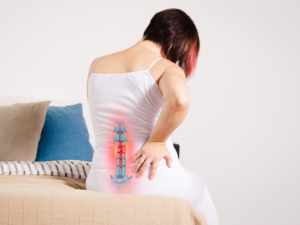 How CHIROPRACTIC can help?
Patients are usually advised to start with a course of non-surgical care prior to considering spine surgery for a herniated disc.
For lumbar and cervical herniated discs, conservative (non-surgical) treatments can usually be applied for around four to six weeks to help reduce pain and discomfort. A process of trial and error is often necessary to find the right combination of treatments. Patients may try one treatment at a time or may find it helpful to use a combination of treatment options at once. For example, treatments focused on pain relief (such as medications) may help patients better tolerate other treatments (such as manipulation or physical therapy). In addition to helping with recovery, physical therapy is often used to educate patients on good body mechanics (such as proper lifting technique) which helps to prevent excessive wear and tear on the discs.
Get an Appointment