chiropractic treatment
What is Chiropractic ?
"Chiropractic is a health care profession that focuses on musculoskeletal and nervous system disorders. Chiropractic is based on the premise that our nervous system controls every single cells of our body, any interferences to the system will impair our body's healing thus our health."
Chiropractic is an alternative medical health care option. The Chiropractic approach to healing is concerned with the diagnosis, treatment and prevention of disorders of the musculoskeletal system and the effects of these disorders on general health. Chiropractors emphasize manual therapy including joint adjustment and manipulation with particular focus on joint dysfunction/subluxations. Chiropractors believe that the spine (which is where the spinal cord is) is the most important part towards the general health and well being of a person, even though it is mostly neglected. And through Chiropractic treatments patients will be able to get to the root of their problem, instead of masking issues such as lower back pain, headaches, migraines and carpal tunnel syndrome with pain medication, which temporarily relives the pain.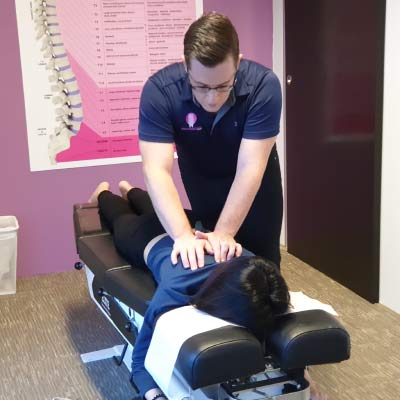 What does a Chiropractor do?
There are many forms of treatments under "Chiropractic". Where the most important one being Spinal manipulation, where the Chiropractor would carry out a passive manual manoeuvre during which the misaligned vertebra would be realigned. Its defining factor is a dynamic thrust, which is a sudden force that causes an audible release and attempts to increase a joint's range of motion. High-velocity, low-amplitude spinal manipulation (HVLA-SM) thrusts have physiological effects that signal neural discharge from Para spinal muscle tissues, depending on duration and amplitude of the thrust are factors of the degree in Para spinal muscle spindles activation. Clinical skill in employing HVLA-SM thrusts depends on the ability of the practitioner to handle the duration and magnitude of the load. More generally, spinal manipulative therapy (SMT) describes techniques where the hands are used to manipulate, massage, mobilize, adjust, stimulate, apply traction to, or otherwise influence the spine and related tissues.
>>> continue to see registered chiropractors list >>> 
Is Chiropractic Clinic Safe?
"Chiropractic treatment is entirely safe, when employed skilfully and appropriately. " with the report from World Health Organisation (WHO) in 2005. This report indicates chiropractic is safe but professional and skilful of chiropractors are still need to be considered when choosing among chiropractic clinics. True Chiropractic Group has 6 branches located land wide in Singapore, which includes Ang Mo Kio, Bukit Timah, Orchard, Woodlands, Punggol and Tampines. Our employed Chiropractors are qualified in world's famous chiropractic universities in USA, New Zealand, Europe and Australia. More than that, Doctor Katrina and Doctor Cory are qualified Nutritionist and some of our chiropractors are qualified with team chiropractor for Singapore National Teams (Baseball/Softball).
>> continue to find out clinic locations >>> 
References:
Winkler K, Hegetschweiler-Goertz C, Jackson PS et al. (2003). "Spinal manipulation policy statement"(PDF). American Chiropractic Association. Retrieved 2008-05-24.
Pickar JG, Sung PS, Kang YM, Ge W (2007). "Response of lumbar paraspinal muscles spindles is greater to spinal manipulative loading compared with slower loading under length control". Spine J 7 (5): 583–95. doi:10.1016/j.spinee.2006.10.006.PMC 2075482. PMID 17905321.
World Health Organization (2005). "WHO guidelines on basic training and safety in chiropractic" (PDF). ISBN 92-4-159371-7. Retrieved 2008-02-29.